This post brought to you by White Cloud. All opinions are 100% mine.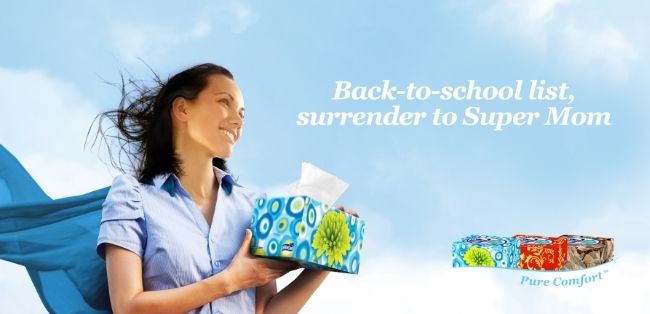 If all goes well, we hope to be moving into a new house soon. Our closing is actually set for this month. We've spent the better part of the summer house hunting and finally found one we like at a price we can afford. Unfortunately, since we still weren't sure until recently which school district we would be in, I haven't been able to complete all of the school shopping yet. Every school seems to have their own list of necessary supplies.
I've been school shopping little by little throughout the summer. I do it that way every year so that I don't feel so overwhelmed by the whole back-to-school-shopping-craziness. So, I do at least have the basics covered. Backpack, lunchbox, pencils, and those types of items are all set and ready for G's first day of third grade (where does the time go?!).
For us, one of our biggest must-have items is tissues. My kiddos use them constantly, as do most kids. Needless to say, classrooms go through quite a few boxes each year. My (and my kiddos) preference is White Cloud Facial Tissue. Soft and soothing, these tissues are the epitome of Pure Comfort™.
The best part? Not only can I check this item off of my shopping list, but I can also support Children's Miracle Network Hospitals by purchasing limited edition White Cloud CMN Facial Tissue boxes!
White Cloud currently has a great coupon available for $0.75 off facial tissue multipacks. The multipacks are perfect if you have multiple kids in school.
The White Cloud brand is available exclusively at Walmart and is only available in select markets. Be sure to check out the White Cloud Store Locator to find out if it is available in your area.
Visit White Cloud at the links below for great back-to-school tips and ideas!
White Cloud Facebook Page
White Cloud Twitter Page
White Cloud Pinterest Page