This post brought to you by Buffalo Wild Wings. All opinions are 100% mine.
Football Season around here means lots of food, family, and fun!
Hubby and I really enjoy watching Football together. I wasn't even into Football when we first started dating, but Hubby was (and still is) a total fanatic. Thanks to him, I'm now hooked too. We even own a fantasy team together!
A great place to enjoy some good eats (and drinks!) while watching our favorite team is Buffalo Wild Wings (aka BDubs)! It's all of our Football favorites in one place. They have 30+ flat screen TV's to catch all the action, loads of tasty wings with like twenty different sauces & seasonings, and a variety of drinks to wash it down.
I really enjoy going to Buffalo Wild Wings when it's just Hubby and me, but it's also a fantastic choice for the whole family. They have plenty of items on their kid's menu that my girls really like.
They have all kinds of great promotions going on too, including Game Changer Beer (made by Redhook), Bottomless Boneless Lunch, Wing Tuesday, and Boneless Thursday. Buffalo Wild Wings is a great choice anytime!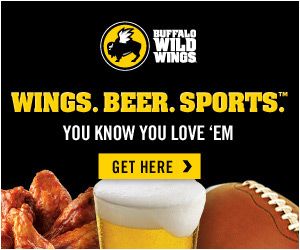 Like Buffalo Wild Wings on Facebook and Follow Buffalo Wild Wings on Twitter to stay updated on promotions, specials and new items.